From the
Financial Times
of London: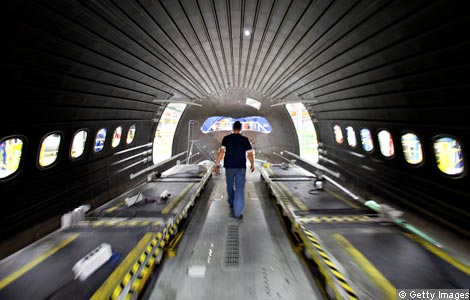 Towards a solution? A fuselage section for a Boeing 787 being built at Spirt AeroSystems, whose operations form part of an aviation cluster in Wichita, Kansas. Washington wants the US to double its total exports in five years
When Vicki Gerbino, a native of upstate New York, was deciding two years ago whether to move to Wichita, Kansas, the Midwestern city did not seem like a model for the future of the US economy.
"My image was Wyatt Earp and the Chisholm Trail," she says, referring to the unruly frontier town of the late 19th century that served as the final destination for cattle being driven north from Texas to meet rail lines crossing the American plain.
But the head of the Greater Wichita Economic Development Coalition says she found a place filled with art, theatre and "smart people" – many linked to the aviation industry. "Everybody and their brother flies or knows someone who flies," Ms Gerbino says.
Thanks to a cluster of aircraft manufacturers such as Learjet, Cessna and Hawker Beechcraft, the economic focus of Wichita – population 366,000 – is very different from the emphasis on services and consumer demand typical of 21st-century America.
According to a study
published late last month by the Brookings Institution, a Washington think-tank, nearly 28 per cent of the city's gross metropolitan product is sold abroad. That makes it the most export-oriented in the country, just ahead of Portland, Oregon – noted for its computer and electronics companies – and San Jose in California's Silicon Valley.
The entire article is
here
.
The Washington Post
recently wrote about Wichita as a great vacation spot and I summarized that article
here
.
So, come and see us!